'You are Looking Live': A closeup of CBS' The NFL Today; The circus days of Brent, The Greek and Phyllis
Columnist Rich Podolsky has written a dandy.
It's about a time when television was smaller and when the the NFL was beginning to steal the show. There were three networks and ESPN was still a dream. ABC, CBS and NBC ruled the roost. No Fox and certainly no vertical sports networks, cable, tentacles or streaming.
In the early 70s television was changing. Tobacco was no longer permitted to run ads and the commercial unit, to that point sixties in length, was generally reduced to thirties. Revenue for the networks, a medium just 25 years young, was ballooning.
By the mid 70s, the NFL began galloping away from baseball as America's pastime. The Vietnam War was winding down and the country was still divided. We had a president who was forced to resign and a successor who had pardoned him for his misdeeds. The difference though, then to now, is that the mob wasn't born yet, nor was the destructive silent-killer, dubbed cancel-culture. Debates were still heated and protests abounded, even violence on the streets, cops against students and vice-versa. But few threats for expressing unharmful views of the world, no matter how different or unconventional they might have been.
Watching sports on television was calming and comforting. In middle of it, New York City was on the brink of bankruptcy. The city's Mayor Abe Beame made a desperate plea for help to President Gerald Ford. His response was spelled out in two unforgettable words on the front page of the tabloid, New York Daily News,  "Ford to City: Drop Dead." Still, life went on. The entertainers of the last generation triggered laughs, but not every word was weighed like precious metal. Lots of hippies, but no mobs then. I liked it better then, I was also a lot younger.
The decade of the 70s was when sports on television erupted, more programming than ever. Not only did the number of network game telecasts increase, so did pre and post programming. The networks also began outsourcing production to creative agencies. It spawned shows like Superstars, Battle of the Network Stars, Survival of the Fittest and the World's Strongest Man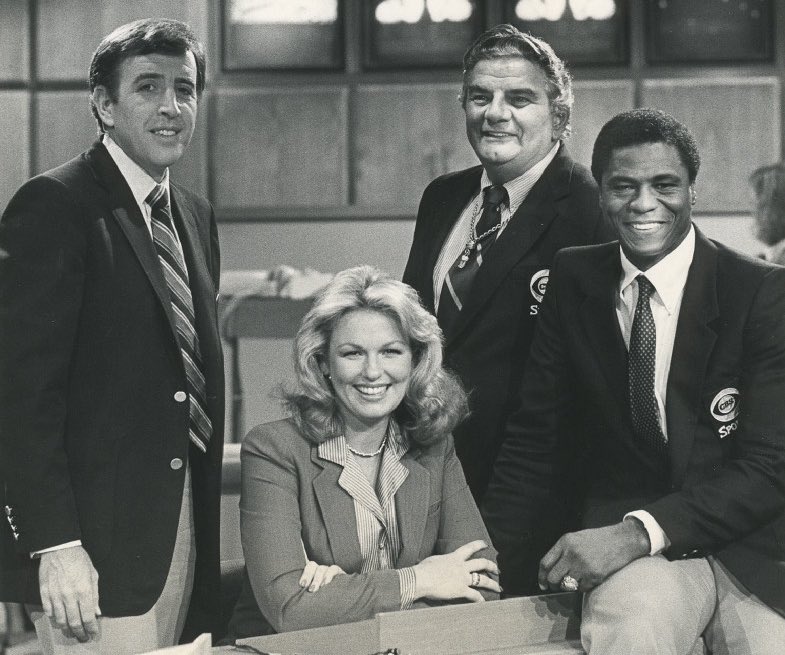 In 1975, CBS Sports, under the aegis of Bob Wussler, was intent on doing something special  to build The NFL Today, to give it more of a punch, and a little bit more theater.
A handful of years earlier, ABC's Howard Cosell caught fire. He was network TV's first acerbic personality, using his close ties with Muhammad Ali to build his own visibility. The two polarizing men drew millions of eyeballs.
ABC's Monday Night Football was next for Cosell, a series that at the outset mixed caustic entertainment and hard-hitting football. And if you were missing song, Don Meredith: "Turn out the lights, the party is over."
Other than the Masters, CBS was inextricably identified with the NFL. Its lead-in subdued show to game-coverage was launched in 1961.
No surprise. As a network overall, CBS was always labeled to be somewhat stuffy, nothing too edgy. From the late 60s through the early 70s, Frank Gifford, Pat Summerall, Jack Whitaker and others participated in CBS' off-the-field NFL pre game programming. The title would vary, from NFL Report, Football Kickoff, NFL Kickoff and somewhere in those early years, The NFL Today. (Brent Musburger, Phyllis George Jimmy the Greek and Irv Cross, l-r, the quartet identified with CBS' NFL Today in the 70s.)
The Tiffany Network, as CBS is sometimes referred to, did take a progressive step. It was the first to have  a couple women involved. In 1970, Marjorie Margolies produced and reported features and actress Carole Howey reported. It was also the first network to run halftime highlights 
Brent Musburger came along in 1973. Boss Wussler brought him in from Chicago. His first assignment was two seasons of NFL play-by-play. In 1975, when the network got the NBA rights, the man who grew up in rugged Montana was named the league's lead voice. It was evident that Brent could do anything from the mainstream to golf and horse racing. Yet he would be best suited for his gnashing vigor in the studio. And so it was, Musburger was elevated to host of The NFL Today that same fall.
In 1975, CBS settled on a permanent title, The NFL Today, and the program would turn into an entertaining circus. Going forward, there was never a dull moment. Very Un-CBS like! 
What Cosell was to ABC, Brent Musburger was to CBS, bold, strong-willed, probing and irascible. In the transition years from 1974 to '75, the NFL studio went from soft-spoken, straightforward and low-keyed to bombastic. In addition to Brent and Jimmy the Greek, there was the soft-spoken Irv Cross and the former Ms. America, Phyllis George.
The polemics became heated and the on-air rivalries festered. Two hardheaded men, Brent Musburger and Jimmy the Greek were at each other's throats which at one point grew into a fist-fight off the air. No one was seemingly happy unless he or she got his his or her way. There was a good reason to fight for the microphone. The NFL Today was the highest rated network pre-game show.
Rich Podolsky's You are Looking Live! gives readers an opportunity to relive those golden years of TV sports and get fascinating first-hand looks behind the scenes; the in-fighting, back-stabbing and shenanigans.
What's revealed among many other bizarre anecdotes are the times that Musburger and CBS executive Ted Shaker would drive back to their Connecticut homes on Sunday nights after a long day in the Manhattan studio. When traffic backed up at one toll booth lane, there was an empty and closed one alongside that was more convenient. There was also a handy six-pack conveniently placed. (click the cover to the title's Amazon site.)
Greg Gumbel on calling NFL games with former QB, Kenny Stabler. "Talk about another education. Between ex-QBs (Terry) Bradshaw and Stabler, I learned how to drink at an early age. You were just happy if Kenny showed showed up on game day."
When Executive Producer Terry O'Neil was picked off by CBS from ABC, he observed that Musburger was a control freak and declared him an "anchor-monster."
The Greek had productive contacts and had learned that Gerry Faust would become Notre Dame's head coach. But Brent stole his thunder before Jimmy could break the news himself. The Greek was seething the rest of the day and all-hell broke that night. Through interviews, Podolsky takes readers back to Musberger vs. The Greek.
The author also interviews just about anyone with decision making power from executives, Ted Shaker, Kevin O'Malley and Bob Fishman to on-air stars like Bob Costas, Al Michaels and Greg Gumbel. Their stories are captivating.
Face it. It feels like Musburger and The NFL Today have been part of our lives forever. Brent, 82, is still at it. Not afraid of a challenge. Now he's doing something with which he has little experience, NFL radio play-by-play for the Las Vegas Raiders.
You are Looking Live!, a beaut!