NFL Week #12: Thanksgiving is here! Announcer critiques; Tirico gets both NBC games; Al Michaels off
Week #12 Byes- Arizona and Kansas City
For late changes – Check The 506 – which keeps track of the latest geographic changes between now and kickoff  -Geographic broadcast maps below
Eye on Sky and Air Sports is a wonderful course for schedules and voices, radio and TV telecasts, radio and streamcasts
Fox has the doubleheader and CBS the singlecast
Sunday Night Football fans will miss Al Michaels this weekend. Mike Tirico negotiated a few NFL games this season as he transitions to the SNF seat in 2022. Tirico has both NBC's Buffalo-New Orleans game and  this Sunday night's Cleveland at Baltimore matchup.
Joe Buck and Troy Aikman will partner on Thanksgiving Day's opener, Chicago at Detroit. They'll also be on Fox' late Sunday game, Rams at Green Bay. Some traditional dandies. It's interesting to note that the first ever NFL national broadcast was on Thanksgiving Day in 1934. The same two franchises battled that day, Bears at Lions on November 22nd. The country was suffering through the depression and the NBC Radio Network had the dean of sportscasters, Graham McNamee and Don Wilson on the microphones. It was the twilight of McNamee's career. He was being phased out by the network and it was said that he died of loneliness at age 54. Remember that it wasn't until the 1950s that the NFL caught on among sports.
Outside the exclusive telecasts in prime or all-day Thanksgiving, the widest distributed afternoon telecast will be the Rams-Packers going to 91% of America. It's Fox with Joe Buck and Troy Aikman.
Jim Nantz and Tony Romo will spend Turkey Day in Dallas, Raiders at Cowboys. They're off Sunday. CBS has only four telecasts then.
Going into the weekend:
Room for improvement: Trent Green, more heft required
Continues to sparkle: James Lofton
Being hurt by comparison: Mike Tirico to Al Michaels
The jury isn't out: Drew Brees- He'll have a bigger role at NBC perhaps beginning next year. To date, he's been okay.
Shallow commentary: Mark Schlereth
Ants in his pants Award: Jay Feely – He couldn't give a hoot, no matter if Spero Dedes is trying to call a play. Jay lacks manners on the air. He interrupts his play-by-play partner. Let your partner finish his call
Understated: – Love Chris Myers. Doesn't make a big deal of himself
Steady and read: – Kevin Harwell -Sepulchral, prepared and on-it
Enjoyable: – Steve Levy- Brings a smile to viewers at home
Thursday, November 21
12:30 PM- Chicago Bears at Detroit Lions
FOX: Joe Buck, Troy Aikman, Erin Andrews, Tom Rinaldi 
99% -212 stations
4:30 PM- Las Vegas Raiders at Dallas Cowboys
CBS: Jim Nantz, Tony Romo, Tracy Wolfson
100% – 239 stations
8:20 PM- Buffalo Bills at New Orleans Saints 

NBC, Peacock: Mike Tirico, Drew Brees, Michele Tafoya

100% of country
Sunday, November 28
1 PM- Tennessee Titans at New England Patriots
CBS: Ian Eagle, Charles Davis, Evan Washburn
52% – 148 stations
1 PM- Pittsburgh Steelers at Cincinnati Bengals
CBS: Kevin Harlan, Trent Green, Melanie Collins
1 PM- New York Jets at Houston Texans
CBS: Spero Dedes, Jay Feely, Amanda Balionis
10% – 10 stations
1 PM- Tampa Bay Buccaneers at Indianapolis Colts
FOX: Kevin Burkhardt, Greg Olson, Pam Oliver
61%- 142 stations
1 PM- Philadelphia Eagles at New York Giants
FOX: Adam Amin, Mark Schlereth, Shannon Spake
26% – 47 stations
1 PM- Atlanta Falcons at Jacksonville Jaguars
FOX: Kevin Kugler, Mark Sanchez, Laura Okmin
4% – 8 stations
1 PM- Carolina Panthers at Miami Dolphins
FOX: Chris Myers, Daryl Johnston, Jennifer Hale
8% – 14 stations
4:05 PM- Los Angeles Chargers at Denver Broncos
CBS: Greg Gumbel, Adam Archuleta, AJ Ross
23% – 51 stations
4:25 PM- Los Angeles Rams at Green Bay Packers
FOX: Joe Buck, Troy Aikman, Erin Andrews, Tom Rinaldo
4:25 PM- Minnesota Vikings at San Francisco 49ers
FOX: Kenny Albert, Jonathan Vilma, Sara Walsh 
8% – 21 stations
8:20 PM- Cleveland Browns at Baltimore Ravens
NBC, Peacock: Mike Tirico, Cris Collinsworth, Kathryn Tappen 
100%
Monday, November 29
8:15 PM- Seattle Seahawks at Washington Football Team
ESPN, ESPN+: Steve Levy, Brian Griese, Louis Riddick, Lisa Salters 
83 Million homes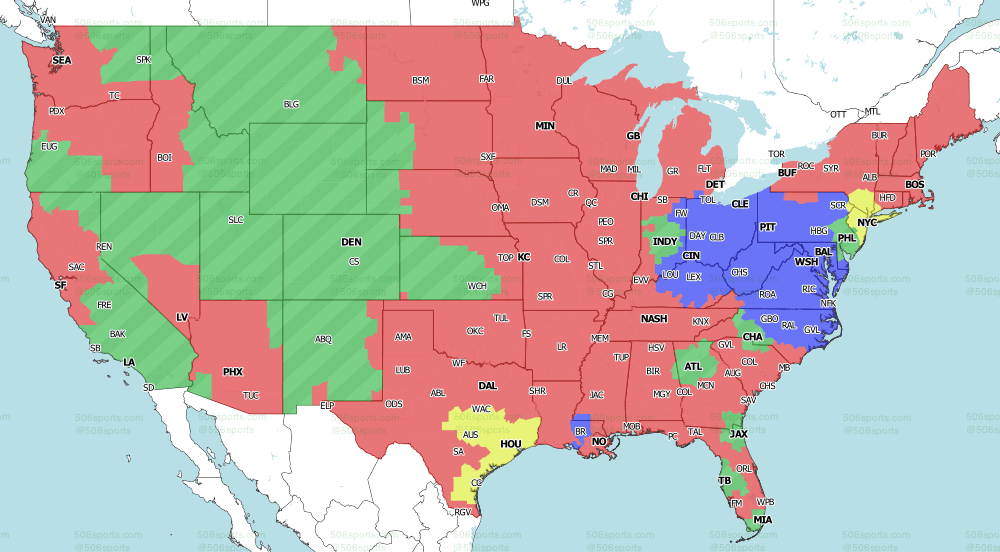 █
Tennessee @ New England
█
Pittsburgh @ Cincinnati
█
NY Jets @ Houston
█
LA Chargers @ Denver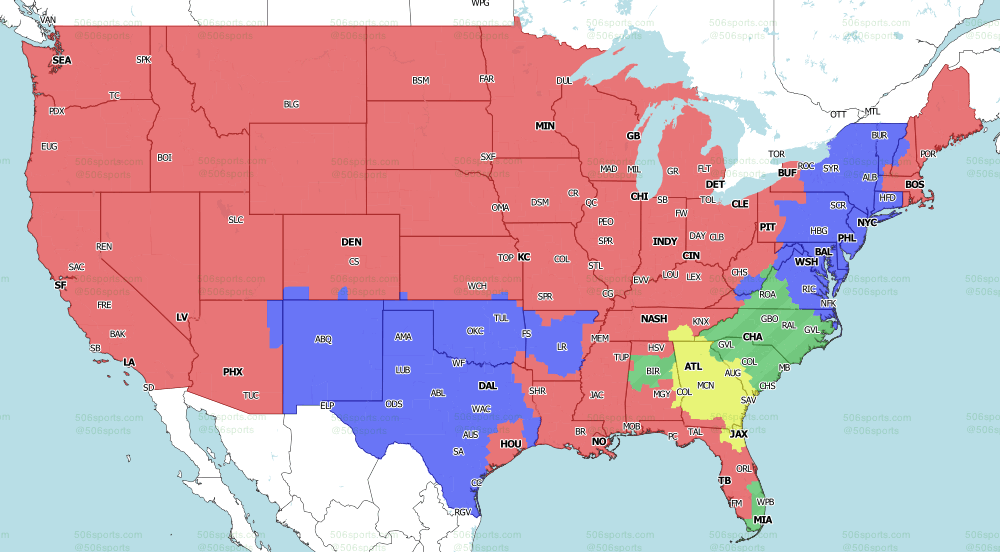 █
Tampa Bay @ Indianapolis
█
Philadelphia @ NY Giants
█
Carolina @ Miami
█
Atlanta @ Jacksonville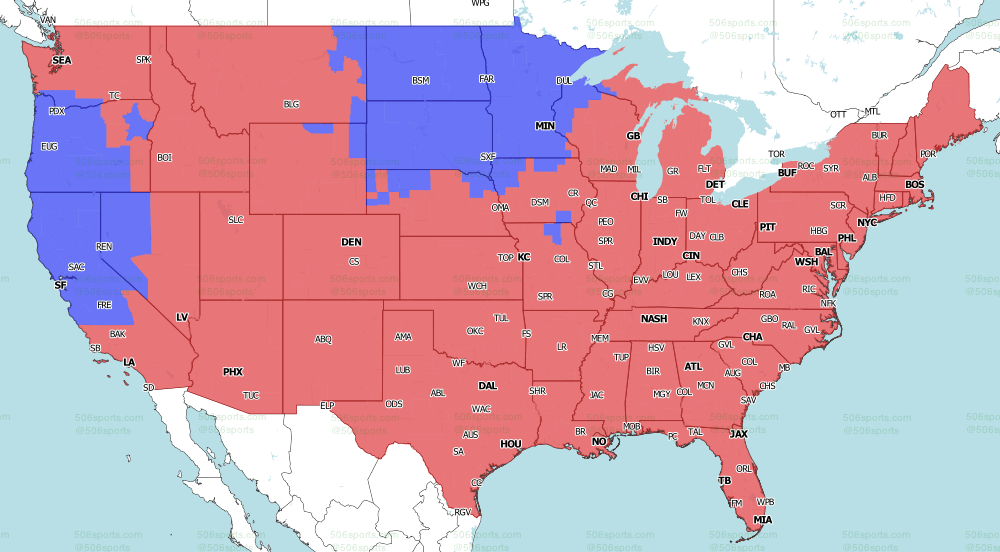 █ LA Rams @ Green Bay █  Minnesota @ San Francisco